Our Most Requested Programs !
The Times They Are Changing—Are You?
Moving Beyond Your Comfort Zone - Create a Ritzy Future

What do you think of when you hear the word Ritzy?
Often it is associated with "High Priced or luxuriously elegant", beyond what many of us can afford.  Here Ritzy will be associated with growth, improvement, new perspectives, new insights, open to new experiences, stretching beyond the routine. Often we do have to "live with" a situation in life, however. We all hold dreams of what we would like to see in our future.

We want to create OUR Ritzy future! Our preferred future.
Learn how to move beyond your comfort zone to continuously improve your professional and personal life. (45 min-5 hours)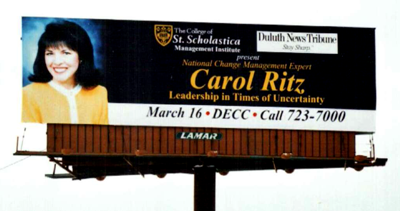 Benefits to You !
Your audience connects with Carol's practical tips and inspiring style.
Managers receive How-to formulas for gaining co-ownership during change.
Participants learn hands-on tools to use with customers tomorrow.
All presentations are inter-active, informative, humorous and inspirational !
Leadership During Times of Transformation

In these changing times, an empowered leader has distinct advantages. The leader will learn how to create Buy-In and co-ownership for the change process.  Without endorsement, there is greater anxiety, frustration and sabotage. Gain the How-To tools of communications, setting priorities during change and most important, how to work as a coach to analyze your team members in order to gain support for constant change.


Today's leaders influence their team by building a cooperative relationship, counseling on performance, mentoring and empowering for constant revitalization.
(2-6 hours)
World Class Customer Service
In today's volatile economy, quality customer service is the competitive edge for all service organizations.
Learn how to gain the loyalty and trust of your internal and external customers and how to remain calm in the most demanding situations.
(1-5 hours)
Creating Our Dream Team
Master the steps in developing a high-performance team and expand your team's capacity for action. View a six part model for creating a dream team in this highly interactive experience to build on team diversity to strengthen performance.  (3-5 hours)
Put The "Spin" on Your Communications
Communications skills reflect our level of ability and confidence. You may think that good communications skills are a talent that a few "lucky people" are born with. This is a myth-dispel the notion that you don't have such a gift.
(1-5 hours)